Distributed Hyperopt + Automated MLflow Tracking
Hyperopt is a popular open-source hyperparameter tuning library. Hyperopt offers two tuning algorithms: Random Search and the Bayesian method Tree of Parzen Estimators (TPE), which offer improved compute efficiency compared to a brute force approach such as grid search.
Databricks Runtime 5.4 ML and above include Hyperopt, augmented with an implementation powered by Apache Spark. By using the SparkTrials extension of hyperopt.Trials, you can easily distribute a Hyperopt run without making other changes to your Hyperopt usage. When applying the hyperopt.fmin() function, you pass in the SparkTrials class. SparkTrials can accelerate single-machine tuning by distributing trials to Spark workers.
MLflow is an open source platform for managing the end-to-end machine learning lifecycle. Databricks Runtime 5.4 ML and above support automated MLflow tracking for hyperparameter tuning with Hyperopt and SparkTrials in Python. When automated MLflow tracking is enabled and you run fmin() with SparkTrials, hyperparameters and evaluation metrics are automatically logged in MLflow. Without automated MLflow tracking, you must make explicit API calls to log to MLflow. Automated MLflow tracking is enabled by default. To disable it, set the Spark configuration spark.databricks.mlflow.trackHyperopt.enabled to false. You can still use SparkTrials to distribute tuning even without automated MLflow tracking. Databricks Runtime 5.5 ML and above include MLflow so you do not need to install it separately.
Important
Databricks does not support logging to MLflow from workers, so you cannot add custom logging code in the objective function you pass to Hyperopt.
How to use Hyperopt with

SparkTrials
This section describes how to configure the arguments you pass to Hyperopt, best practices in using Hyperopt, and troubleshooting issues that may arise when using Hyperopt.
Example notebooks
The examples in this section demonstrate how to do hyperparameter tuning with Hyperopt.
Here is a notebook that shows distributed Hyperopt + automated MLflow tracking in action.
After you perform the actions in the last cell in the notebook, your MLflow UI should display: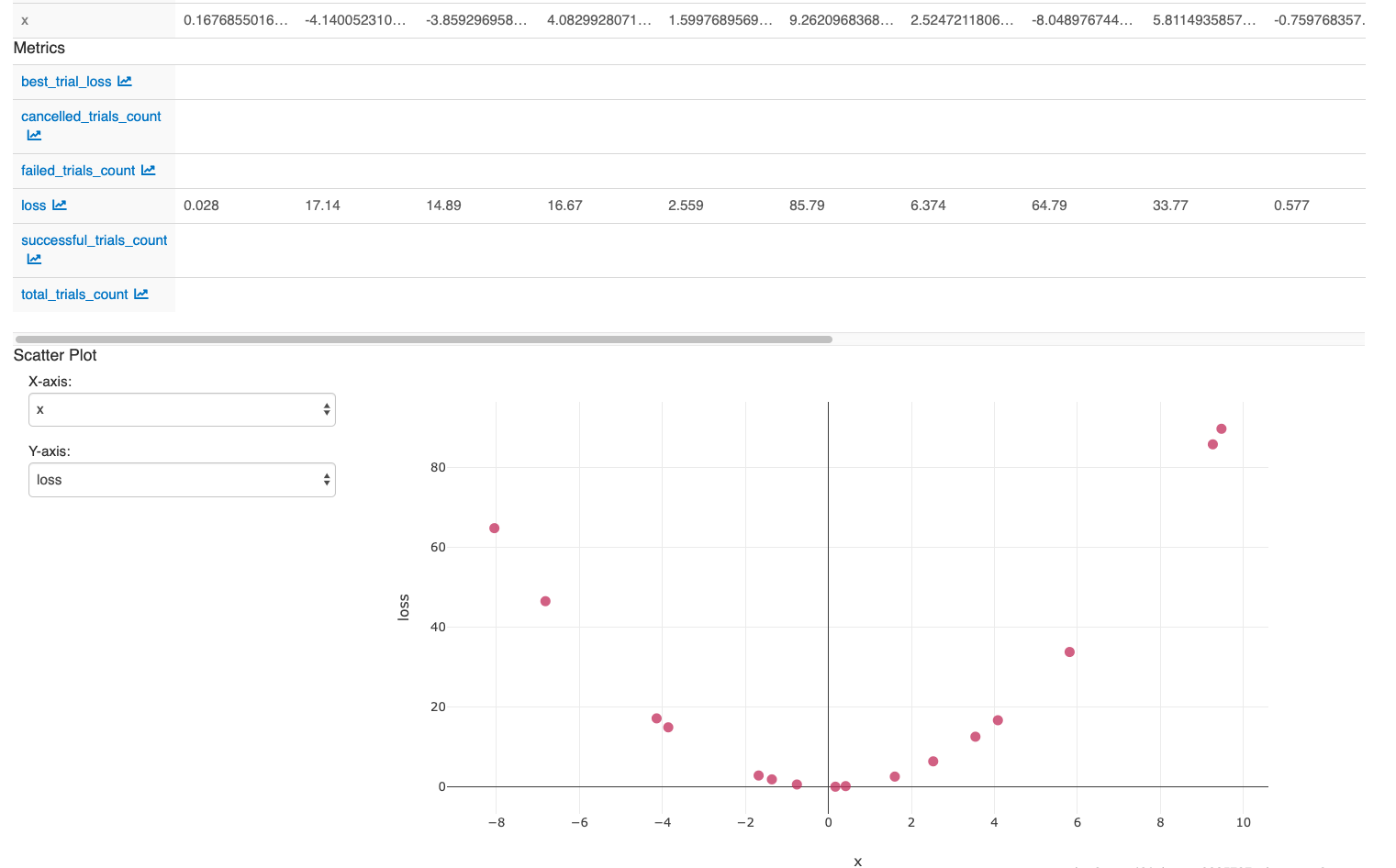 Here is a notebook that demonstrates how to tune the hyperparameters for multiple models and arrive at a best model overall. We use Hyperopt with SparkTrials to select between two model types: Naive Bayes and Support Vector Machines (SVM). For each model type, Hyperopt can search over a different set of hyperparameters.