Workspace¶
The Workspace is the special root folder for all of your organization's Databricks assets. The Workspace stores all your notebooks, libraries, and dashboards. By default, the Workspace and all its contents are available to users, but each user also has a private home directory that is not shared. You can control who can view, edit, and run items in the Workspace by enabling Workspace access control.
You can create and manage the Workspace using the UI, the CLI, and by invoking the Workspace API. This topic focuses on performing Workspace tasks using the UI. For the other methods, see Databricks CLI and Workspace API.
Folders¶
Folders hold everything within the Workspace. This is just like a folder on your desktop or local computer.
Click a folder name to open or close the folder and view its contents.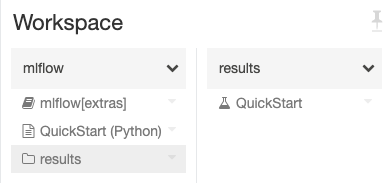 Folders can contain notebooks, libraries, and other folders.
Icons indicate the type of the object contained in a folder.
Each user has a home folder for their own personal notebooks and libraries:
>
If you have Workspace access control activated in your account, by default items in this folder are private to that user.
Default folders¶
The Shared folder is for sharing notebooks across your organization. The Users folder manages user notebooks and is automatically created for every user.
Search the Workspace¶
Click the Search Icon

in the sidebar to incrementally search the Workspace and type a search string. As you type, Databricks returns matching items as well as their locations.
Get help¶
To get help at any time, click the question mark at the top right-hand corner to display a variety of resources, including documentation and shortcuts.
Any text you search returns results from all our help content.